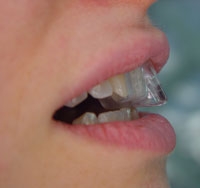 Nyugtalanul alszik?
Rosszul ébred?
Gyakran fáj a feje, migrén gyötri?
Merev a nyaka, háta, válla fáj?
Érzékenyek a fogai, fáj az állkapcsa?
Van megoldás gyógyszer, sebészeti beavatkozás nélkül mellékhatás mentesen. Nem is gondolnánk, hogy az éjszakai fogszorítás, éjszakai fogcsikorgatás problémájában a népesség jelentős hányada érintett, ezáltal a fogorvosok folyamatosan találkoznak e problémával.
Miért is szorítjuk fogainkat, hogyan és mitől alakul ki az éjszakai fogszorítás, (bár súlyosabb esetekben nappal is fönnállhat a probléma)? A napi stressz élményeket álmunkban újraéljük, ehhez hozzáadódik, ha az alsó és felső fogsor nem egyformán érintkezik (hibás pótlások, akár 1-2 fog hiánya is!!!) és álmunkban "keresi" a kényelmes helyzetét. Ilyenkor megfeszül a rágóizomzat, főleg a halántékizom terhelődik túl. Ezt egyébként egy arcra ragasztott kis készülékkel mérni is tudjuk és szoktuk is mérni ha nem egyértelmű a diagnózis, vagy gondosan kell megtervezni az éjszakai fogszorítás, fogcsikorgatás terápiás lehetőségeit. Igen meglepő adat, hogy éjjel, álmunkban 14-szer nagyobb szorítóerőt tudnak egyesek produkálni, mint pl. rágás közben.
Milyen tünetei vannak az éjszakai fogszorításnak? A panaszok többnyire reggel a legerősebbek: nyugtalanul alszik, fáradtan ébred a páciens (a fogszorítás erős izommunka, mely fizikailag is kimerít és a rövid, ún. mikor-ébredések már gátolják a pihentető alvást), levertség, hát-derékfájás, reggeli fejfájás, karzsibbadás. Hihetetlen, de nem ritka, hogy sokszor térd, boka, talp, vagy akár derékfájdalmak hátterében is a fogszorítás áll, ugyanis ezt az erőteljes rágóizom mozgást a nyak és törzs izmai próbálják igen nagy erővel korrigálni, egyensúlyozni, ezáltal az egész test statikája megbomlik. Az éjszakai fogszorítás hozzájárulhat a migrén kialakulásához is, fülzúgást, arcfájdalmakat is okozhat. A fogakon ún. nyaki kopások jelennek meg (amelyet a rossz fogmosási technika tovább súlyosbíthat), ami nemcsak esztétikailag csúnya, de jelentős érzékenységgel is járhat.
Mikor érdemes beavatkozni? Már egy tünet esetén is lehet javulásra számítani. A fogorvos gondos kikérdezés és vizsgálat, esetleg mérés után készít egy miniatürizált éjszakai harapásemelő készüléket, amely a beteg fölső, vagy alsó frontfogain támaszkodik és ezáltal nem engedi a hátsó fogakat érintkezni, ami azonnal szorítási reflexet váltana ki. Migrénes betegek esetében, nappali fogszorítás, vagy fogcsikorgatás esetén a készüléket nappal is hordani kell.
Sok betegem számolt be a készülék rendszeres hordását követően arról, hogy alvásuk minősége jó értelemben változott, tudnak mélyen aludni és kipihenten ébredni, ami eddig elképzelhetetlen volt számukra. Természetesen a napi stresszt mindenkinek magának kell megoldania, de ez a készülék, amit a fogorvos minden betegnek egyénileg állít be igen sokat segíthet a panaszok leküzdésében. A készülék fogorvosi rendelőben kb. egy óra alatt elkészül, nem jár fájdalommal, nem kell hozzá lenyomatot venni. Néhány alkalommal a pontos beállítás miatt pici igazításokra van szükség. Sok betegnél már az első éjszakai hordás is enyhülést hoz, de általában néhány hétre szükség van a tünetek megszűnéséhez.